Was quoted saying Paper Towels might have helped avoid spread of deadly cholera outbreaks.
Tributes from Bill & Melinda Gates, and many others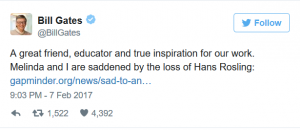 Dr. Hans Rosling, the Swedish professor of Public Health who became known as a "Rock Star Statistician", has died at the age of 68 following a battle with pancreatic cancer. Over the past 15 years he had become famous both as an expert on world health and development statistics, as well as an incredibly entertaining presenter of the data. His two TED talks are among the most popular ever in terms of views.
Interviewed in 2009 for the Perini Journal, he stated:
"Hygiene is also a very important factor in health. For example if you look at the last cholera outbreak in Chile it was traced back to and spread by dirty dish cloths. That is a fact. So perhaps paper kitchen towels would have been useful in avoiding this."
From Perini Journal 33 in 2009, page 90
"Fame is easy to acquire, impact is much more difficult."
Time magazine included him in its 2012 list of the world's 100 most influential people. When asked about his celebrity status, Rosling said: "Fame is easy to acquire, impact is much more difficult."
Links you may want to view:   TED talk 1 2006
Data rock star, statistician, visionary
Please feel free to share this content by clicking on your favourite social media below. Thank you!